Read this article after watching the Netflix documentary Trust No One: The Hunt for the Crypto King about the Quadriga CX crypto exchange. You will find several interesting stuff about Patryn, that were posted on the TalkGold forum.
If you're here because you're looking for a MMG or TG replacement, then signup to TopGoldForum.com. this is the new home for online money makers and individuals looking to profit from Crypto and online investment programs.
For almost two years,  the two most known money-making forums, Money Maker Group and TalkGold, are no longer active. According to domain info, both these forums were turned off on Aug 21, 2017: MMG Domain Info and TalkGold Domain Info. I've checked their Twitter accounts and Facebook pages, and there's no news.
UPDATE from admins:
We decided to take the sites down as we no longer wanted to be a part of them as it's not worth the possibility of getting sued and having to defend ourselves yet again. Additionally, the websites were costing money to run.


In this article, I'll explain why MoneyMakerGroup and TalkGold forum are down and why the owners decided to pull the plug. Both these forums have been in operation since 2004, which makes them almost 14 years old. I've been a member of these two communities for years but decided to create my community - TopGoldForum.
Who owns MMG and TalkGold.com?
According to domain information, both domains are owned by E&B Advertising, incorporated in the United States. This company is owned by two twin brothers: Edward Krassenstein and Brian Krassenstein. They are both listed as CEO of E&B Advertising and another related company, Forum Advertising LLC. Edward Krassenstein claims himself on Twitter as an Entrepreneur, Editor, Investor, and Consultant. Politically Independent, Fitness, Anti-Trump., Bitcoin, Philly Phan #impeachTrump #TheResistance.His last tweet was several hours ago.
Brian Krassenstein is also on Twitter but not so active; his last tweet was dated more than 4 years ago on 26 July 2013. Also, on their LinkedIn profiles, they claim to own and grow several other online communities running as usual: 3DPrint.com, VRTalk.com, IR.net.
The whois record of the MoneyMakerGroup.com domain name.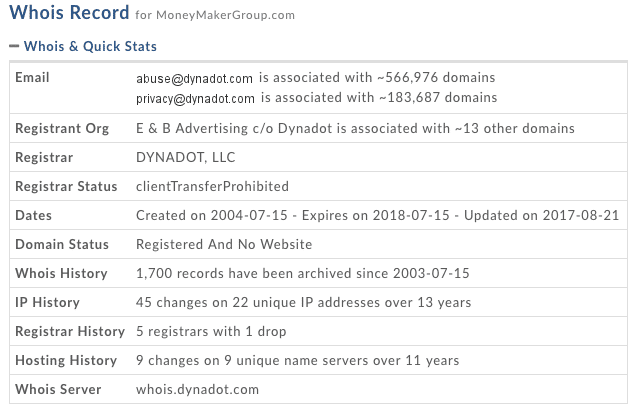 The whois record of the TalkGold.com domain name.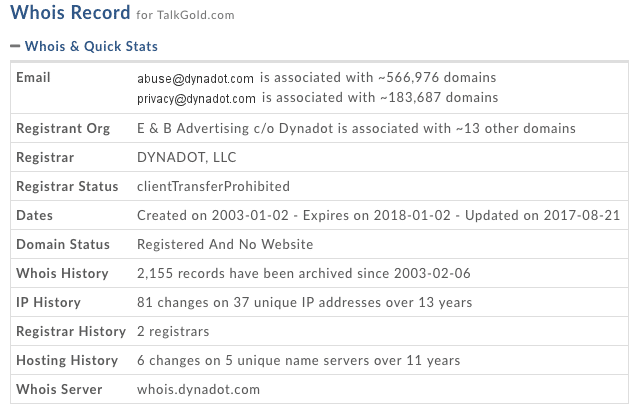 Several former MMG forum users speculated that the closure of the websites was connected with the one year ago incident when the police raided the Krassenstein brothers' house.
Edward Krassenstein claimed that the closure is not related to the police raid and there is no case against them:
There is NO case against us.  Also, there was never any criminal charges or case brought by the DOJ against us, and there never will be.  There was never a court hearing, nor will there be.There is no crime in selling ads to a third party.  The First Amendment clearly protects Facebook as well as us.
In an interview for Money-Monitor.com, Brian Krassenstein claimed that he sold Talk Gold but remained part of the management.
1. The gangs of scammers on TalkGold: Michael Patryn and Gerald Cotten
Besides legitimate users who wanted to make a decent income online, these two forums were the party place for several cybercriminals and scammers' rings.
Back in those days, e-currencies like eGold and LibertyReserve and cryptocurrencies attracted scammers like flies. The reason was very simple: Both e-currencies and cryptocurrencies are anonymous and non-reversible so once you paid someone, you couldn't get your money back if things went south. Gerald Cotten was posting on TalkGold under the username Sceptre.
 At the same time, Patryn, known as Omar Dhanani before he changed his name, posted on TalkGold as "Patryn.". Patryn also posted as Patryn on MoneyMakerGroup and BlackHatWorld. Sceptre posted as Lucky-Invest on TalkGold to promote a Ponzi scheme.
You can read more about their criminal past in this blog post. If you haven't watched the NetFlix documentary, here it's the trailer:
According to CoinDesk, Michael Patryn is now involved in a De-Fi project called Wonderland. But this was not the only cybercrime gang on TG and MMD. Also, there were networks of scammers that did many "pump and dump" investment schemes to lure innocent investors in and leave them without their money. This attracted authorities' attention, and those forums were closely monitored.
2 Now, Social Media is getting most of the attention
Discussion forums are rapidly and surely losing members in favor of social media sites like Facebook and Linkedin. Facebook groups are quite popular now, which is unfortunate, in my opinion, as most Fb groups are filled with affiliate marketing links spam. Still, most users prefer to spend time on them for some reason.
3. The decline in traffic
Both MoneyMakerGroup and TalkGold forums have seen a big decline in traffic over the years, according to alexa.com. The images below speak for themselves: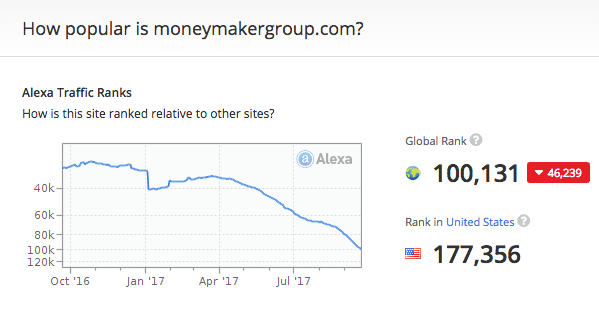 MoneyMakerGroup  Traffic according to Alexa.com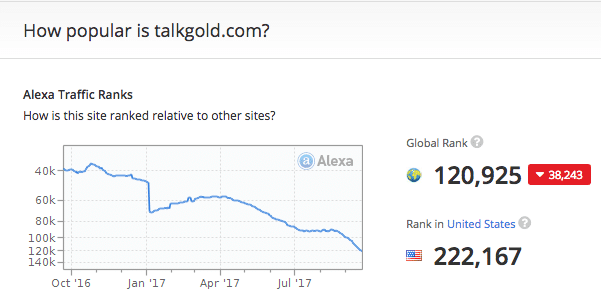 TalkGold Forum Traffic, according to Alexa.com
In October 2016, both forums had a similar global rank of 40,000, but in less than a year, they lost around 100,000 positions, clearly showing that the traffic collapsed.
4. The decline in Google visibility
The traffic from Google is significant for a website to get new members and have solid ad revenue. Again, we see a sharp decline in organic traffic on both sites, similar to the Alexa chart.


MoneyMakerGroup Organic Traffic Decline


MoneyMakerGroup Organic Traffic Decline
According to SemRush, MMG Forum lost 91% of its traffic from Google. And the situation for the TalkGold forum is similar. There may be multiple reasons for this, but I think this happened because of Google algorithm changes that penalized websites with questionable backlink profiles and poor content.
5. The decline in revenue
With such a sharp decline in traffic is obvious that the ad revenue of both sites sunk. Both MMG Forum and TalkGold relied on advertising sales for their most of the revenue.
Adblockers became very popular recently, making it difficult for sites to sell advertising to make a buck, which is the case for these two forums. Also, keeping up and running such communities requires expensive hardware (dedicated servers, firewalls), which can easily take up to $2000 from the admin's pocket.
6. Errors due to old software
MoneyMakerGroup was powered by Invision Forum v2, released around 12 years ago. As I've visited the forums occasionally, I have seen that they haven't upgraded the community software, which was quite buggy and slow.
I suppose they had to deal with many bugs and errors, which are both time and money-consuming. Unfortunately, the administration team didn't invest in upgrading the platforms and keeping them up to date, preferring to "milk" the communities of advertising sales.
Will they come back?
Most probably not. As you can see from the above reasons, there are low chances to see those two forums back. There is too much work and small chances to become profitable again. They are now part of the online money-making history and should remain like this.
Update  Jan 2019: Both domains have been let to expire and purchased by others. While TalkGold Forum now has a simple page that says the forum will sometimes be back, MMG redirects to HYIP.com. So, these two forums are now part of the online money-making history
Update March 2021: While TalkGold Forum remains closed, it seems that the MMG forum got back to life by another administration team that started everything from scratch. Yet the forum is way behind its glory as it has only a couple of thousands of members who talk primarily about HYIPs. [/box] Are you looking for a decent money-making discussion community to be part of? Join Top Gold Forum.
Was that the best decision?
Unfortunately, the members of these two forums could not back up their data, personal messages, contacts, etc.. The administration team should announce several months in advance so users can download/save their information.
Do you know TopGoldForum.com?
I'm a forum advocate, and I'm running a money-making discussion forum called Top Gold Forum. We are not as popular as those forums used to be, but we have strong etiquette and a solid members database of over 42,000 folks.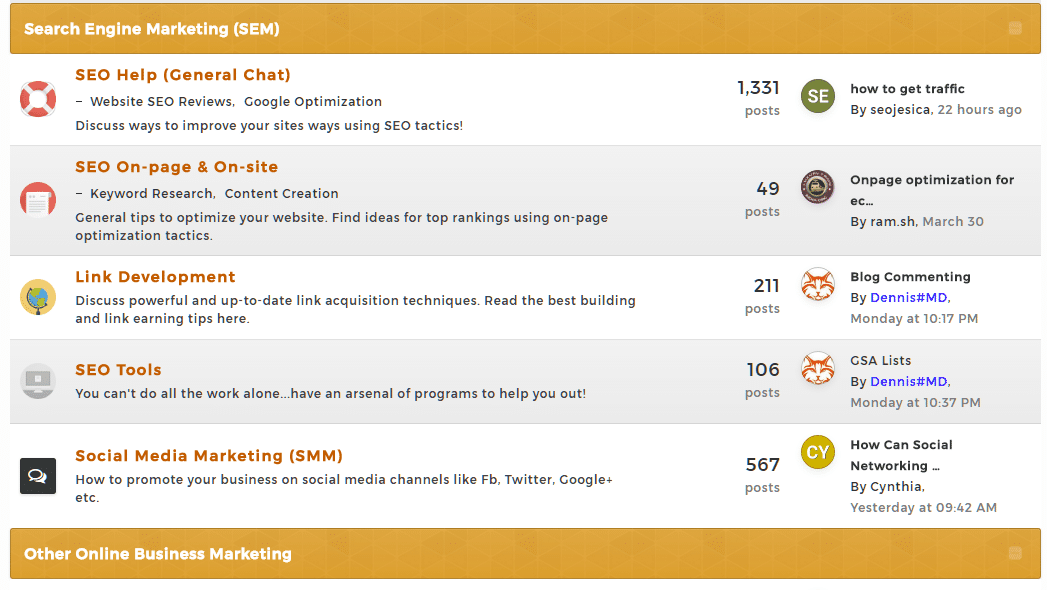 I'd love to personally welcome members from these two communities - MoneyMakerGroup and TalkGold- to the community I have administrated for over 15 years and make TopGold Forum their new home.


P.S. If done correctly, online communities can still be profitable for admins. See our step-by-step guide on how to make money with forums. What people searched: talk gold down, moneymaker group closed, talkgold forum closed, money maker group down, mmg down, talkgold and mmg